What is the NICCY Youth Panel?
The Northern Ireland Commissioner for Children and Young People (NICCY) regularly recruits young people to join the NICCY Youth Panel (NYP). The purpose of the NYP is to advise the Commissioner in her day-to-day work of promoting and safeguarding children's rights in Northern Ireland. It is made up of young people from across Northern Ireland, who share their experiences and thoughts with the Commissioner and her staff to help NICCY make decisions about issues that affect children and young people.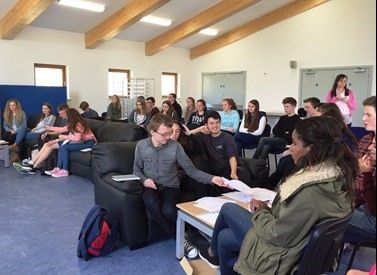 Why should you join?
Help us change things for the better for children and young people in Northern Ireland
Have the opportunity to travel across Northern Ireland and depending on different projects, outside of NI for free
Have your say, and help to raise awareness of issues affecting young people
Meet young people from all walks of life
Help build up your experience and expand your CV for future education, training and job opportunities, with training and development in a wide range of skills, from public speaking and working with the media, to events, projects and staff recruitment
Videos
Check out our videos to see some of the panel's work:
How to join?
We recruit young people aged between 12-17 years, or up to 18 if you have a disability or have experienced living in care. Applications are currently closed for new members but we will update this page when these open again.
More Information
If you have any questions, contact a member of the Participation Team on 028 9031 1616 or participation@niccy.org. You can also register to be informed when we are recruiting in your area by emailing us.