Landmark report launched on pupil's experience's of transferring to Post-Primary School
ALMOST 1,000 pupils from across Northern Ireland have spoken out on the transfer to post-primary school last year, as part of a landmark report published today by the Commissioner for Children and Young People, Patricia Lewsley.
Talking at the event Ms Lewsley said: "Children have told me about their experiences of post primary transfer. The 'Talking Transfer' report will be the first time these experiences will be heard and shared with Government."
Primary school pupils, parents and teacher's took part in the Commissioner's consultation during 2009/10.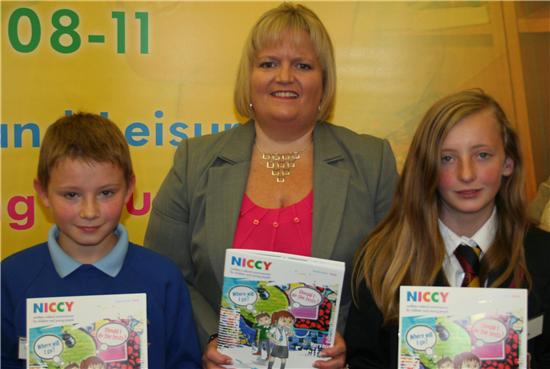 The report covers a broad range of topics, including their experiences of P7, their participation or non-participation in entrance tests and their preferences of post-primary schools.
"For too long children's voices have been absent from this debate," said Ms Lewsley. "The pupils' thoughts, experiences, concerns and constructive comments should be forefront in the minds of those deciding the next steps for post primary transfer. It is vital they have their say.
"Steps must be taken to reduce the pressure and stress experienced by pupils. There is clear frustration and disappointment from children that politicians have not been able to reach an agreement on a way forward for the transfer."
A wide range of views are reflected in the report, from those that thought tests were a good idea, through to those who thought  continuous assessment of their work at primary school was a better option.
"It is a matter of urgency for the Northern Ireland Executive to work quickly and constructively to identify a workable solution that will be in the best interest of all children," said the Commissioner.
The Talking Transfer report has been published in both adult and child friendly versions. You can view and download a copy of the report here.