Commissioner for Children and Young People recruiting young people
NORTHERN Ireland Commissioner for Children and Young People (NICCY), Patricia Lewsley, is currently seeking 10 new recruits to join her in her work.
The NICCY Youth Panel is made up of 25 young people from a wide range of backgrounds across Northern Ireland, aged from 12 – 18 years, or up to 21 if a young person has a disability or is in care.
Panel members advise and assist the Commissioner on key issues in her work to safeguard and promote children and young people's rights and best interests.
They can also get involved in a range of key tasks from recruiting new staff to designing publications and, from helping develop policy for government Ministers to hosting events.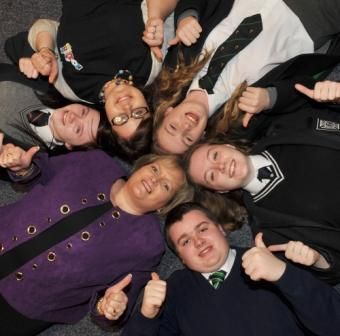 Opportunities for panel members include making sure young people are heard in the media and there are opportunities to directly ask government officials, local MLA's and Ministers about the things that matter most to them.
17-year-old Charlotte Higgins, from Antrim, has only been a member of the NICCY Youth Panel for a year but has been very active in a number of initiatives.
"I was co-host at an intergenerational event at the Long Gallery in Stormont and was involved in 'We Want the Airwaves', where I got to take over popular TV and radio shows for a day. I've met some great friends and learned a lot and would encourage anyone with an interest in children's rights to apply for the Youth Panel," said Charlotte.
Barry McCrory, 15, from Craigavon, has travelled to Paris with the Commissioner to host a workshop for children's rights representatives from across Europe. Barry has also interviewed the First Minister and Junior Minister for UTV Live Tonight and attended three political conferences.
Carla Hilland, 15, from Belfast, said, "I heard about the work of NICCY in Primary School and thought it sounded really interesting so applied when the opportunity came up. Whether you like public speaking or prefer to get on with the background work, I think the Youth Panel has something to offer all young people."
Northern Ireland Commissioner for Children and Young People, Patricia Lewsley, added: "The Youth Panel is a very important part of NICCY as they not only help shape the work but also have the opportunity to speak out about the issues which affect them most.
"The recruitment process is an opportunity to open our doors to an even greater range of young people from across Northern Ireland."
The closing date for applications is the 12th of February 2010. For more contact John McCullough on 028 9031 1616 or email   john@niccy.org
MEDIA ENQUIRIES For more information please contact Andrew McGall, Communication Officer at NICCY on 028 9031 1616 or   communications@niccy.org