NORTHERN Ireland's main daily newspapers continue to negatively stereotype young people according to an analysis carried out by the Commissioner for Children and Young People's (NICCY) Youth Panel. 
To mark International Youth Day (August 12th) members of the Youth Panel looked into the stereotyping of young people, in particular how children and young people are portrayed in the media.
Over a four-day period Youth Panel members looked at coverage in the main Northern Ireland daily newspapers and identified articles as positive, negative or neutral towards both children and young people.
The Youth Panel noted 24 articles specific to young people aged 11 to 18 years old and found that almost three quarters of the articles portrayed young people in a negative light.
When reporting on children under the age of 11 years old the Youth Panel found that the daily newspapers portrayed them in a more favourable way with more than 80 per cent of the coverage identified as positive.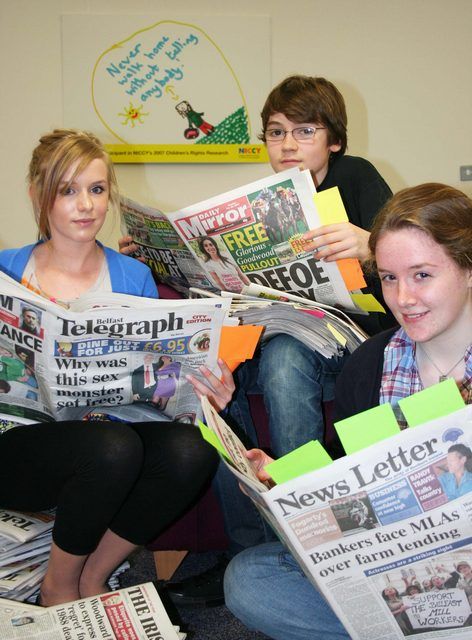 Youth Panel member Eva Beattie helped carry out the analysis and said:  "As soon as a child leaves primary school they don't automatically become bad, so why is this image being portrayed in some of our newspapers.
"We just looked into examples of media stereotyping of young people but we know negative stereotyping exists in politics and our local communities.  On a daily basis we are faced with problems when trying to socialise in public spaces or access shops.
"Although only a small number of young people do engage in anti-social behaviour I know there are so many more young people out there who do not," added Eva.
Youth Panel member Charlotte Higgins felt that the headlines often missed the good work young people did.
"It was good to see all the positive articles on the success of young people at the Dwarf Games and during the Milk Cup," said Charlotte.
"Although there were a few positive articles on young people over the age of 11 years old, the vast majority of articles on this age group highlighted negatives rather than the many positives.
"In future, I would like to see our local media think about the way they portray people my age as they can help play a role in changing attitudes towards young people," added Charlotte.
Youth Panel member Robert Croskey added:  "This analysis was an opportunity to find out how children and young people are portrayed in the newspapers.  We didn't know what to expect when we started this project and following our findings I look forward to hopefully reading more positive things about the thousands of young people who in their own little way help make a difference to Northern Ireland society."
To mark International Youth Day and the forthcoming 20th anniversary of the United Nations of the Convention on the Rights of the Child the Youth Panel produced a video on Children's rights.  Visitwww.youtube.com/NICCYYouthPanel to find out more.
MEDIA ENQUIRIES:  For more information please contact Sharon Whittaker, NICCY Media & PR officer, on 028 9031 1616
NOTES TO EDITORS:
–         The Youth Panel's analysis was based on the July 28 2009, July 30 2009, July 31 2009 and August 3 2009 editions of the  Belfast Telegraph, Daily Mirror (Northern Ireland edition), Irish News and News Letter
–         88 articles relating to children and young people were initially clipped then the Youth Panel identified whether they felt the articles portrayed children and young people in a positive, negative or neutral light
–         The Youth Panel identified 25 positive articles about children and young people and 22 negative articles about children and young people
–         The Youth Panel identified 17 negative articles on post-primary young people compared to seven positive articles about the same age group
–         The Youth Panel identified 3 negative articles on birth to primary children compared to 14 positive articles about the same age group
–         The Youth Panel identified four articles as positive about children and young people regardless of age
–         The Youth Panel identified two articles as negative about children and young people regardless of age
–         This is the second year the Youth Panel have been involved in a piece of work to mark International Youth Day, last year they produced www.youtube.com/NICCYYouthPanel