CHILDCARE students from Belfast Metropolitan College have handed in a petition containing over 200 names to Stormont Buildings, calling for better support for young carers in Northern Ireland.
The petition urges the Government to do more to provide young carers, who care for a parent, grandparent, sibling or other family member, with better support and services.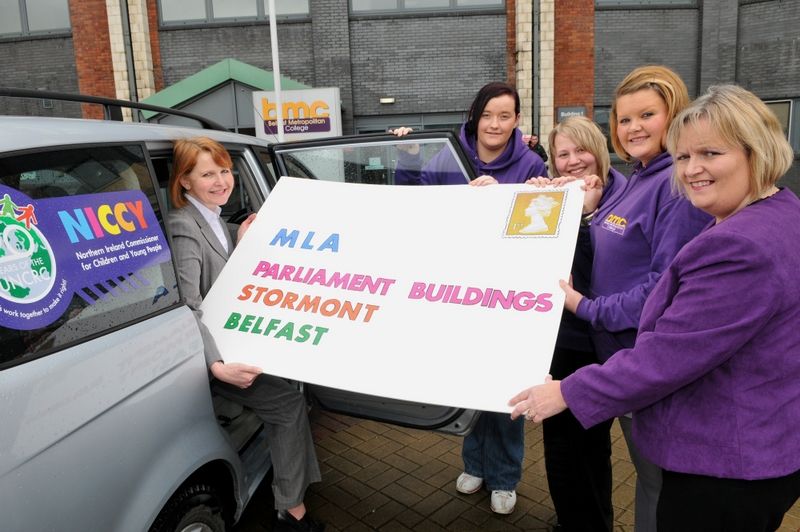 The student's efforts are backed by the Northern Ireland Commissioner for Children and Young People (NICCY), Patricia Lewsley, who is asking Government to provide additional support for the 8,500 young carers, as part of her ongoing 'Make it Right' campaign.
In the UK the average age of a young carer is 12-years-old. Tasks they undertake include housework and childcare, with almost one in five providing intimate care and some giving more than 50 hours of care each week.
Ellen Doble, a NVQ Level 3 Children's Care, Learning and Development student at Belfast Met, started the campaign following a workshop with participation officers from NICCY. She said:
"When my classmates and I attended a NICCY information session on young informal carers, we were moved and outraged to learn that there are more than 8,000 young carers in Northern Ireland.
"These children do not get to experience their childhood and their rights are seriously affected. We felt we had to do something and this is where this petition originated."
"We are delighted that our efforts have been recognised today by the Children's Commissioner but we hope that this is just the beginning; more needs to be done to help these young carers."
Today, the NVQ Level 3 Children's Care, Learning and Development students from the College were recognised for their campaigning efforts.
Speaking at the event, Ms Lewsley said: "These young people have been working hard to help raise the profile of the issues that affect children and young people across Northern Ireland everyday.
"They are using their voice to highlight some of the issues facing young carers and asking Government to listen to the voice of young people and act to improve their lives. I congratulate everyone's efforts and would encourage other young people to get involved and campaign on some of these issues."
Nicola Irvine, course coordinator at Belfast Met, said: "As part of their childcare course, students have had the opportunity to participate in employability training. This includes personal awareness skills and team work skills required in the workplace. NICCY, through its inspiring workshop, provided the students with the opportunity to put these skills into practice for the benefit of others. As such it injected much needed realism into their studies and heightened their awareness of social issues."
This month through the 'Make it Right' campaign, NICCY wants Government to ensure that children and young people have better support and protection in their community.
Other issues highlighted will include having a say, play and leisure, disabilities, children in care, education, health and wellbeing, young people in trouble with the law and a celebration of all the good contributions young people make to society.
If you would like to learn more or find out how to become involved you can email NICCY on uncrc@niccy.org, visit www.niccy.org/childrensrights or call 028 90311616.
To find out more about this please visit here.
ENDS
MEDIA ENQUIRIES: For more information please contact Andrew McGall, Communication Officer at NICCY, on 028 9031 1616 or    communications@niccy.org