STUDENTS at Southern Regional College, Lurgan were today recognised for their Make it Right campaigning on Children in Care, by the Commissioner for Children and Young People, Patricia Lewsley.
The Commissioner's 'Make it Right' campaign, encourages children, young people, parents, carers, and teachers to campaign on children's rights and bring their messages directly to the attention of decision-makers.
The Children in Care campaign explores the importance of stability in the lives of children who come into contact with the care system in Northern Ireland, specifically calling on Government to make children's participation, central to care planning.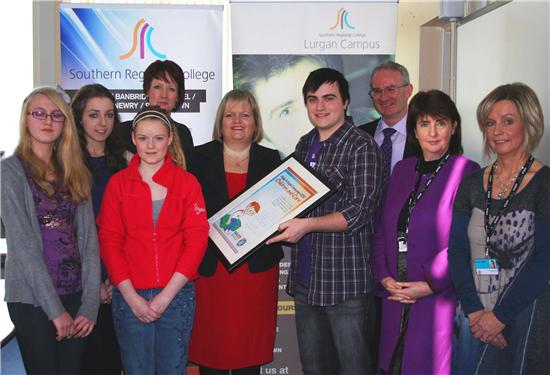 Southern Regional College students petitioned Michael McGimpsey, Minster for Health, Social Services and Public Safety, to take into consideration the rights of children and young people in care and to make sure they are listened to when decisions are made about issues that affect them.
"I congratulate everyone at the college for the initiative that they have shown" said Ms Lewsley. "Last month I presented Southern Regional College's letters together with other children and young people's campaign messages directly to our Government Ministers.
"I asked them to listen, to value and to act now on what children and young people in Northern Ireland have to say about issues that affect them."niccy2013.contrapositive.net/Makeitright
This month through the 'Make it Right' campaign, NICCY is campaigning about safeguarding in Northern Ireland and calls for a range of actions to be taken to ensure that children and young people are appropriately protected from abuse and neglect.
You can find more information on NICCY's Make it Right Campaign here or call 028 90311616