YOUNG people were recognised for their work on child poverty by the Northern Ireland Commissioner for Children and Young People (NICCY), Patricia Lewsley, today in Enniskillen.
NICCY's 'Make it Right' campaign, launched earlier this year, encourages children, young people, parents, carers, and teachers to campaign on children's rights issues and bring their messages directly to the attention of decision-maker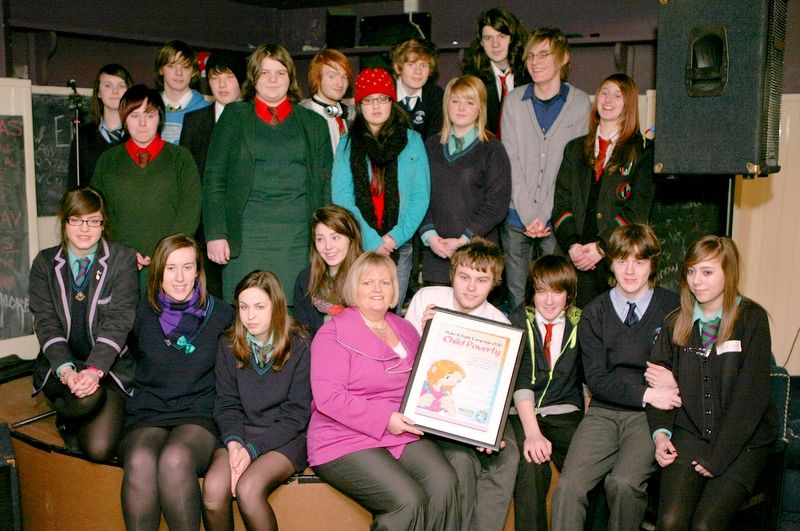 To highlight the affects of child poverty, young people at Fermanagh Underage Entertainment Life (FUEL) hosted an 'Art Attack' event last week encouraging young people to paint, write or create an art piece about the theme.
Speaking at the event Ms Patricia Lewsley said:  "More than a one year on from my first visit to FUEL I am delighted to see that these young people are still working hard to help raise the profile of issues that affect children and young people in Fermanagh everyday.
"They are using their voice to highlight child poverty, which can have an impact on many areas of a child's life, from bus prices for 16 and 17 year old's to good childcare for children so parents can work.
"By taking action in this way FUEL are helping to make sure that the 42 promises of the United Nations Convention on the Rights of the Child (UNCRC) that the government has signed up to are going to be delivered to all children and young people in Northern Ireland.
"I congratulate everyone at FUEL for their hard work and would encourage other young people in the area to get involved and campaign on some of these issues."
Jillian Ellis, 14, from FUEL said: "Doing the project gave us great insight into how poverty really affects young people and all areas of their lives. We found out how it can impact very negatively on health, education, safety, social life, leaving them vulnerable to alcohol and drugs, debt, crime and being socially isolated. The realities follow the themes the Commissioner has in her campaign for this year to try to make it right."
Josh Van Tromp, 17, also from FUEL, added: "The Jigsaw pieces represent the lives of the one in four young people living in poverty. It was hard for us to find images in magazines or anywhere to put on the jigsaw pieces but very easy for us to find images for the background of life for the three out of four young people above the poverty line. It is almost like people don't want to know because it is not glamorous, but it is a hard reality for young people in every community in Northern Ireland.  We hope that by making this we can show how things really are for people who don't get much of a chance to tell."
This month through the 'Make it Right' campaign, NICCY wants government to make sure that support is there for families and carers when they need help.
Other issues highlighted will include community safety, having a say, play and leisure, disabilities, children in care, education, health and well-being as well as young people in trouble with the law.
If you would like to learn more or find out how to become involved you can email NICCY on uncrc@niccy.org, visit www.niccy.org/childrensrights or call 028 90311616.
Commissioner for Children and Young People, Patricia Lewsley, was speaking at the launch event.
MEDIA ENQUIRIES For more information please contact Andrew McGall, Communication Officer at NICCY on 028 9031 1616 or   communications@niccy.org