What is Pupils' Voices?
In 2007, the Northern Ireland Commissioner for Children and Young People's (NICCY) Democra-School guidance pack was developed with the co-operation and involvement of pupils, teachers, and key officials at board and department level. The Democra-School guidance pack contained practical advice on how to set-up, or improve, pupil participation within school. Every school in Northern Ireland received a copy of the pack.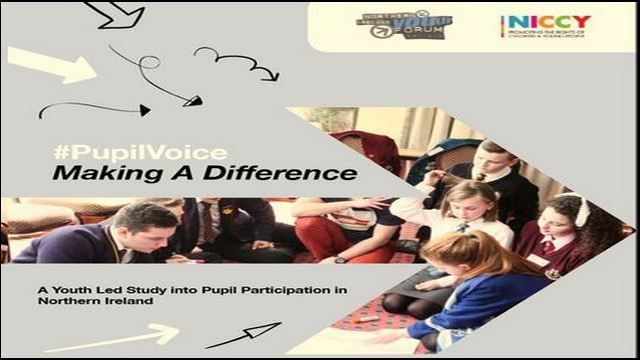 In the absence of the Department of Education (DE) having a specific policy in place to make sure that children and young people are involved in having a say in decisions that affect their lives within the school environment, NICCY worked with the Northern Ireland Youth Forum (NIYF) to:
Ascertain pupils' awareness of participation mechanisms in their school;
Explore what impact pupil participation has had on school life and changes that have taken place within the school as a result of it;
Celebrate best practice and share learning; and
Explore the use and knowledge of supporting materials for pupil participation, such as NICCY's Democra School Resource.
Following advice from pupils and teachers, this guidance has now been updated and renamed as Pupils' Voices. 'Pupils' Voices' is a way to promote, support and enhance pupils having a say in school.
The Guidance
The guidance in this pack is based on the exchange of information and identifying good practice that was gathered through the Democra-School project and our recent work with NIYF. We have also used key pieces of policy and legislation, best practice examples, and the UNCRC as a benchmark for the work.
Background Information