Report Intro – you can watch a summary below:
Why have we written this report?
NICCY has a duty to use the UNCRC as the basis of all our work. We do this by:
Making sure that children and young people, and those who work with them, know about their rights and how to contact NICCY if their rights aren't being met;
Checking that laws and plans put in place by government protect children's rights;
Making sure that services children and young people receive (e.g., health, leisure and education) meet children's rights;
Giving advice to government; and
Asking children and young people what they think about issues that affect them.
NICCY also has powers to take action when children are not able to fully enjoy their rights, whether this is for an individual child who is not being treated fairly, or when a service that government provides could be improved.
We want to make sure that all children and young people have the right information they need to take action themselves when they see rights not being met by government. Copies of this report will be given to MLAs and civil servants who are able to make improvements in children's lives. The Resource Pack (see below) will help you take action yourself if you would like to highlight an issue you are concerned about or contact an MLA, government minister or public body to ask them for help.
How can you use this guide to take action?
It is important that children and young people know about their rights, and how Government is keeping its promises so that every child and young person can enjoy those rights.
We want to make sure that rights are not just something written on paper but a lived experience for every child and young person. This guide will help you take action where rights are not being met by government.
For each issue we explore what the UNCRC says about your rights, what NICCY and the UN Committee have previously asked government to do, what the current situation is in Northern Ireland and NICCY's new calls to government.
You can find out about an issue you are interested in or where you think children and young people are not able to fully enjoy their rights and take action to change it by:
Raising awareness to build support in your school, community or in the media;
Contacting a local politician or government minister to ask what they can do to improve the lives of children and young people; and
Letting the UN Committee know how the NI Assembly is doing at making rights a reality for children and young people in Northern Ireland.
What is covered in the Resource Pack?
These are the priority issues that NICCY is currently working on which are covered in this resource:
Access to Goods, Facilities and Services proposed legislation;

Mental Capacity legislation; and

Equal Protection from assault.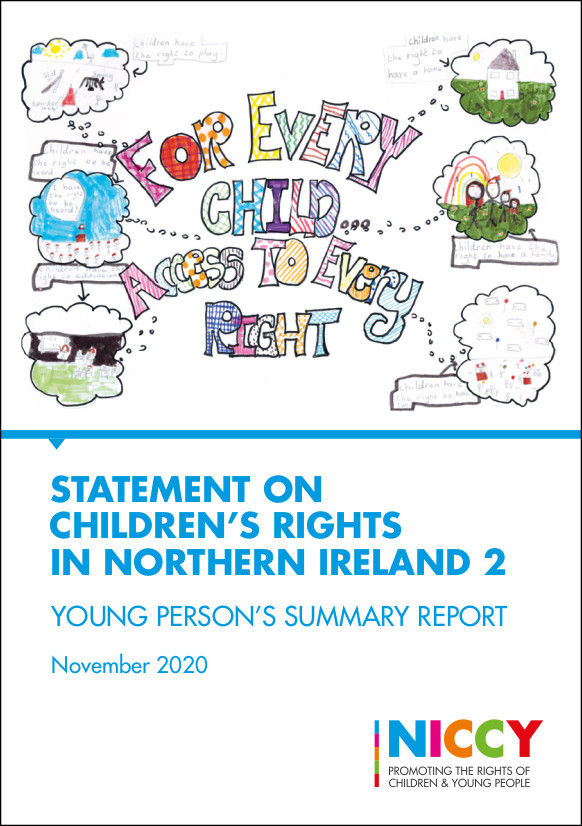 Young Person's Summary Report