Getting involved
NICCY is encouraging as many organisations – statutory, voluntary, community and private – to 'Mark the Day' and celebrate along with us the UNCRC and child rights, on or around that date. There are many ways to Mark the Day and our Youth Panel have come up with some suggestions below.
Click here to find out who's doing what to Mark the Day 
and don't forget to use #ForEveryChild and #ChildRightsCelebration 
What do I have to do?
Once you have decided how you and your organisation will mark the day:
We look forward to hearing about how you will join us in marking the 30th Anniversary of the UN Convention on the Rights of the Child!
Background
The United Nations Convention on the Rights of the Child (UNCRC) is the most widely ratified human rights treaty in history, and in the 30 years since its adoption, it has helped to transform children's lives. It has inspired Governments to change laws and policies and make investments so that more children finally get the healthcare and nutrition they need to survive and develop; fewer children are forced to leave school, to do hazardous work, or to get married and there are better systems to protect children from violence and exploitation. It has also enabled more children to have a voice and participate in their societies.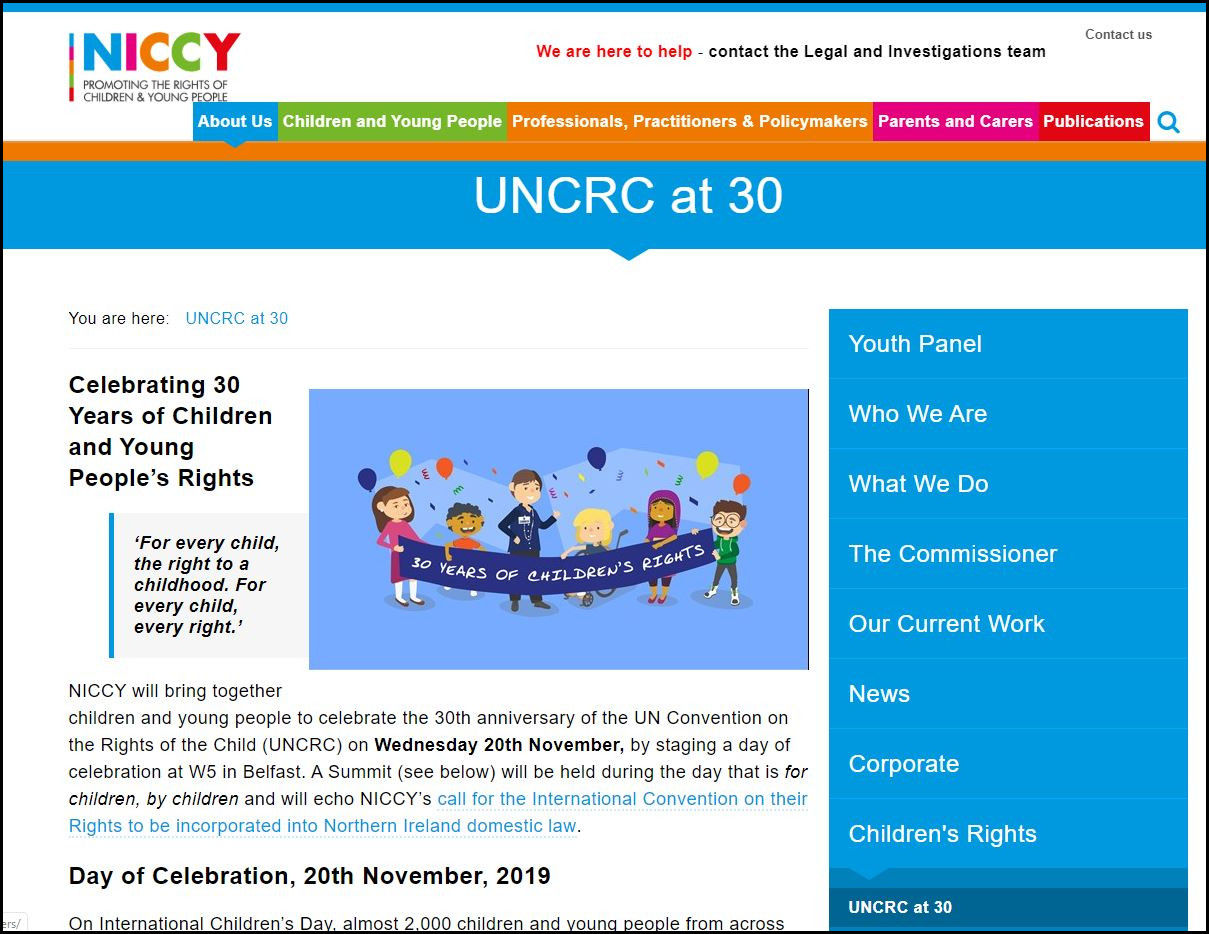 On 20th November 2019, NICCY will be hosting a major event at W5 celebrating, along with 2000 children and young people, the 30th Anniversary of the adoption of the UNCRC. This will include a high-level Summit involving children and young people talking directly to key decision makers about what needs to be done to better realise children's rights in Northern Ireland.
If you have any queries, do not hesitate to get in touch:
Phone: 028 90311616
E-mail: info@niccy.org