Statement by the four UK Children's Commissioners
The four UK Children's Commissioners have issued a joint call to UK universities asking them to honour the offers of a place they have already made to prospective domestic students.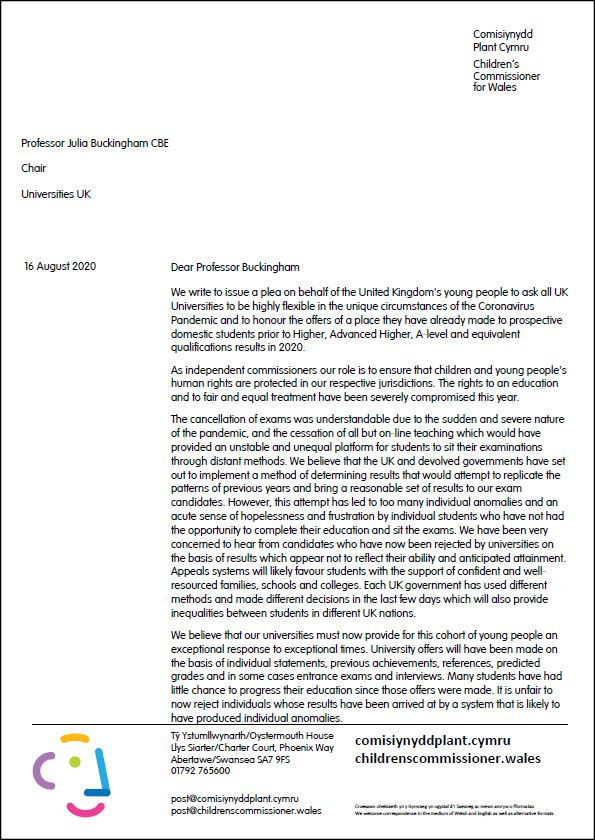 In a letter to Universities UK, the collective body of Vice-chancellors and Principals in UK Universities, Professor Sally Holland, Children's Commissioner for Wales, Bruce Adamson, Children and Young People's Commissioner Scotland, Anne Longfield OBE, Children's Commissioner for England, and Koulla Yiasouma, Northern Ireland's Commissioner for Children and Young People called for 'an exceptional response to exceptional times'.
The four independent Commissioners, whose role it is to protect and promote children and young people's human rights warned that young people's "…rights to an education and to fair and equal treatment have been severely compromised this year".
They went on to say that:
"University offers will have been made on the basis of individual statements, previous achievements, references, predicted grades and in some cases entrance exams and interviews. Many students have had little chance to progress their education since those offers were made. It is unfair to now reject individuals whose results have been arrived at by a system that is likely to have produced individual anomalies.
"The impact of the decisions made by universities now will have life-long consequences for this generation of young people. We strongly urge universities to respond with generosity of spirit and to warmly welcome all students who hold conditional offers for their institution."
ENDS
Notes to Editors